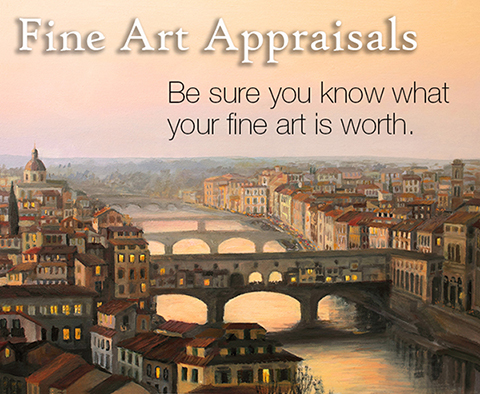 As you know, I pride myself on recognizing fabulous fine art and antiques when I see them, and I have amassed quite the collection. Every once in a while, however, even I get stumped.
On those rare occasions, I rely on a number of professionals to ensure my potential purchases are authentic – and to verify their worth.
There are a variety of reasons you may need an appraisal. They include: You're selling your item; you need an accurate assessment for your insurance company or for tax reasons; you're making a charitable donation; or, you want to buy, or already own, a piece of fine art and you're curious about its true value.
Whatever your motivation, here's the best way to navigate the process:
Educate yourself by reading reference books and interviewing reputable dealers who are willing to help you.
Hire an experienced and accredited fine art appraiser. Ask the appraiser about his or her appraisal education, professional designations, and how he or she qualified for those designations.
Don't try to do it yourself and don't use the Internet to get an accurate valuation. Appraisers are trained specialists who work for a fee. They evaluate your piece and give you a written statement of its value. Always seek an appraiser who has expertise in the type of artwork you own. And NEVER retain the services of an appraiser who offers to purchase what he or she appraises!
Get the fee for your appraisal in writing beforehand. You should know what an appraisal will include before you hire someone.
Get references. Bank managers and professional organizations should be a good source for helping you find an accredited fine art appraiser. Keep in mind, though, that an appraised value is not how much a person wants to sell artwork for, or how much he or she thinks a piece is worth. Rather, it's how much the art actually sells for at galleries and other venues.
Palm Beach Show Group has fine art, jewelry and antique shows all across the country. If you're interested in being an exhibitor at an upcoming show, click here for an application. The next Palm Beach Show Group art and antiques event will be held in New York City on November 20-24.