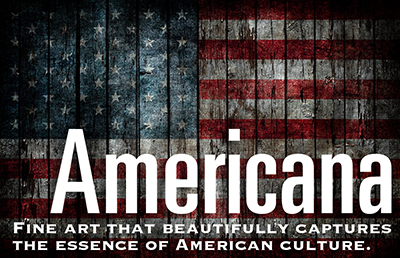 Americana art has grown increasingly popular in recent years, and there is now a great demand for this type of fine art. Americana art is described as anything representative of American culture – be it anything from oil paintings and bronze sculptures to toy trains and flag-embossed houseware.
True Americana pieces tend to be from the late 19th century to the start of World War I, when the quintessential American lifestyle was born. Some of the most common themes found in Americana art are the evolutions of our national flag, the elegant bald eagle, and majestic ships sailing from our ports.
Prior to 1912, there was no official design for the American flag. Because of this, there are actually quite a few unique American flags out there. Oftentimes, the flag maker himself decided on the pattern and any extras. For instance, flag makers of the Civil War period created circular patterns for the stars, whereas other times the stars appeared in a, well, "star" pattern.
Maritime art is yet another staple in Americana art. During the late 19th century, the northeast region of the United States dominated the shipping and whaling industries. James Buttersworth – though a Brit by birth – is considered by many the foremost American ship painter. He was most well-known for chronicling the America's Cup race before photography became widespread.
The bald eagle has been a symbol of the United States dating back to the Revolutionary War days. For more than two centuries, artists have been employing it as background or detailing in their works. In more modern times, though, the bald eagle has become highly commercialized and mass-produced. Thus, bald-eagle pieces are not always the fine art that collectors are looking for. When scouring for bald eagle pieces, check for quality – and see who the artist is. This will ensure you have a piece of unique fine art – not a quasi-collectible.
In the world of Americana art, there are remarkable pieces that are able to beautifully capture the essence of American culture and everyday life. Procuring this type of fine art is not only a fantastic way to enhance your collection, but also a wonderful way to honor our great nation.
There has been a growing presence of Americana art at Palm Beach Show Group events recently. Their next fine art show will be held in New York City on November 20-24, where you can find one of the best displays of American Flags and antiques in the country from exhibitor Jeff R. Bridgman American Antiques.