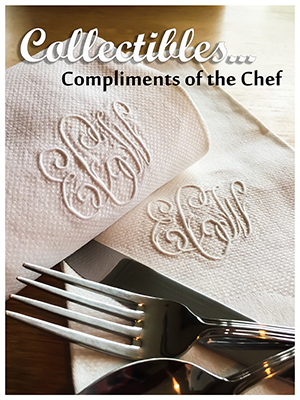 Many years ago, I had a friend who was known for throwing lavish dinner parties. He was a chef in Chicago and his table (routinely seating as many as 15) would be laden with food almost too pretty to eat. But what always stuck out to me was his beautiful array of table linens – table cloths, napkins, runners and the like. They were sumptuous, lovely things with accents of lace and intricate scrolling monograms.
The thing was, they didn't always match, nor did the monograms fit his name. Now, this didn't bother me at all. In fact, I came to assume these collectibles were family pieces inherited or otherwise handed down to him.
Finally, one evening, as we sat around in the haze of satisfaction following one of his more intimate meals (there were only 10 of us) I commented on the exquisite serviette draped across my lap.
"This is just a beautiful thing," I said. "It's a wonder you would even use such a thing…or serve anything other than ice cubes and white wine when doing so. Don't you worry about staining them?"
"No," he replied, without thinking. "There are more where that came from."
My expression must have been sufficient for him to know that I needed more of an explanation than that. He motioned for me to follow him and went into his tiny butler's pantry where he opened a cabinet filled to the brim with every imaginable table linen. It turns out that he had scoured antique shows and shops for years collecting table linens…sometimes for mere pennies.
I'll admit, antique textiles were never my thing. Frankly, I was a touch scared of them. The care of them intimidated me and the idea of spending a fortune on a piece of cloth that could be utterly ruined by a wayward glass of merlot made me nervous. He went on to tell me that this very attitude (in others) is what had allowed him to build such a huge collection. He said that he had bought entire boxes of linen napkins for just a few dollars because a few were a touch moth-eaten.
"I just take those out or I use those myself," he said. "And although I don't think of them as 'disposable,' I do think it's pointless to have anything you don't use."
Linens, I learned, are one of the easiest collectibles to amass. They're everywhere and can be very economical. Sure, you can spend thousands for a point de venice table cloth, but you don't have to. Remember, these collectibles are service items and meant to be pretty in addition to utilitarian.
"So, you don't even try to match your own initials with the monogram?," I asked, as we returned to the table.
"Good grief, no," he laughed. "I just think of them as instant ancestors. Nobody knows what my great-great grandmother's initials were except me anyway!"
Palm Beach Show Group is holding its Palm Beach Jewelry, Art & Antique Show February 10-16. Their last show of the season, the Naples Art, Antique & Jewelry Show, will be February 19-23.