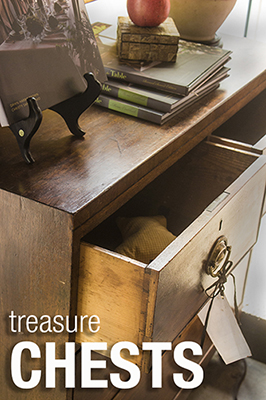 I have always been of the opinion that one's home should introduce guests to the person who lives there, even if they are not home. Meaning, your personal space should reflect you and what you like in a manner as unique as you are.
This holds true whether we're discussing furniture, antiques, fine art, or anything else you might add to the home.
Once you internalize this idea, you can be liberated from the crippling doubt that comes with the question "Does this go?" The short answer is always "Yes…if you love it."
Regardless of the type of home you have or the dominant style of your interior décor, there is always a way to incorporate the richness, timelessness and smart investment of furniture and other antiques.
To me, well-chosen and well-placed antiques, aesthetically, can serve to anchor an airy or even stark modern space and is an interesting visual foil – a stand-alone art piece, in fact.
If you're an aspiring collector and are not sure of the right piece with which to start your furniture and antiques collection, I'd suggest a chest. I love chests. For their simplicity and utility, a chest of drawers (depending on size) works in a living room as a sofa table, in a foyer as a hall table, in a dining room as a sideboard, or in a bedroom as…well…a chest.
Furthermore, if you have children or are concerned about daily wear and tear, a chest is a marvelous option as, by its very nature, it is typically built to last and won't be pressed into hard service as much as, say, a table or chair.
I think the clean, almost-masculine lines of the empire style blend beautifully into modern spaces.
American Empire, for example, offers a very structured front façade with rich, deep veneers of flamed mahogany and, perhaps, brass pulls. Yet, viewing it from an angle reveals the softness of pierce and scroll detail or articulated columns. Whereas French Empire, conversely, may offer a bit more flash with a marble top or ormalu mounts. This is really a matter of personal taste, as neither style imposes itself so much that you need to be concerned that it will overwhelm a space.
This quiet confidence will allow you to get to know your own personal tastes when it comes to antiques, and should help to inform your decisions on future acquisitions.
Chests tend to be extremely popular pieces and are often on display and available at Palm Beach Show Group shows. The next show will be held in New York on Nov. 20-24, followed by a show in Palm Beach on Dec. 3-7.