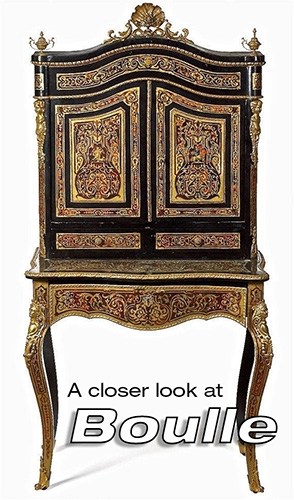 Our tastes change and, hopefully, we get smarter.
The first part is a fact. The second part is an ambition.
When I was first starting out as a fine art collector, I loved American and French Empire furniture…exclusively. I loved the clean, almost masculine lines and rich dark wood. I loved the simple forms of American pieces and the restrained adornment of the brass and ormolu mounts on the French.
This was my thing, and I came to subconsciously cast a raised eyebrow at people who clamored for heavily adorned and curly-cued French affectations gleaming with gilt and upholstered in vibrant tapestries.
Too much! Over the top! A cabriole leg?! Not in my house! Elegance is simplicity!
Then, the gaudiest little writing desk in the world made a fool of me.
My first piece of "Boulle" was a tiny lady's escritoire* with a beautiful scalloped apron, intricately inlaid panel doors and drawer fronts, and bare-breasted women of gold gracefully supporting the top of the cabinet with its filigreed brass crest. It was red and black and exquisite all over. It did not "go with" (a term I have since grown to despise) a thing I had, but it was too magnificent not to own.
"Boulle" is a term used to describe cabinetwork characterized by elaborately inlaid tortoise shell and brass marquetry. The technique was pioneered by a 16th century Italian craftsman, but it was Andre-Charles Boulle who developed it into a fine art in the 18th century.
Boulle, himself, was phenomenally successful (his other achievements are worth a Google, by the way) and installed entire rooms in Versailles. His sons eventually took over his studio, but his style was heavily copied throughout the late 18th and 19th centuries by a number of cabinetmakers. Therefore, the vast majority of what we call "boulle" today is more accurately described as "boulle work."
All manner of items may be found in this style, but cabinets, boxes, tables and desks are the most common applications. The flat planes allowed for large, intricate patterns that were unachievable with curves and arches.
Boulle work pieces are not terribly hard to find today, but it is becoming increasingly difficult to procure these fine art items. Of course, tortoise shell is now illegal to harvest and environmental laws for importing antique examples of such have affected availability.
The bigger issue is condition. All marquetry and inlaid pieces are subject to the ravages of time, mostly through humidity and the expansion and contraction of wood, which may cause either the brass or the tortoise shell to spontaneously pop loose. Repair is possible, but can be difficult and expensive.
Carefully examine any fine art pieces you may be considering for purchase and hope that the previous owner understood climate control.
* I wish I could say that the desk pictured is mine. It is not, but very similar. I sold mine in a fit of stupidity. Like I said; hopefully, we get smarter.
 The Palm Beach Show Group is the leader in fine art, antique and jewelry shows from coast to coast, so if you're interested in Boulle pieces, consider attending one of their upcoming shows: New York Art, Antique & Jewelry Show on November 20-24; Palm Beach Jewelry-Antiques-Design on December 3-7; and Los Angeles Fine Art Show on January 27-31.