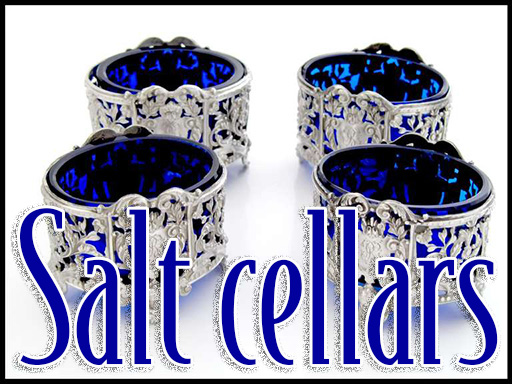 Part of the appeal of antiques is the specificity of purpose that many items had, and how this particularity offers insight into the customs and social values of that time. And, then, sometimes they're just pretty. But consider collectibles such as the simple little salt cellar.
For millennia, salt has been one of the most important elements of human existence. Essential to both the diet of humans and animals, it was as much a currency as any precious metal, and it is from its use as a means of payment that we derive the word "salary."
But while we take it for granted today, it was not always easily procured nor in the amounts that we are accustomed to. Therefore, in finer homes, great efforts were made to present salt at table in a manner that suited its station.
Enter the salt cellar.
Diminutive and delicate, these vessels were a constant fixture on well-appointed tables until the advent of refined salt and salt shakers. They ranged in size, shape and material.
Sterling silver footed cellars with cherubs. Radiant cut glass. Intricately painted porcelain.
Exquisite!
They are now highly-sought-after collectibles.
Master salts were large (ranging from the size of an egg cup to saucer size) and were generally used by multiple people seated near each other. However, I have always loved the individual salt cellars intended to go along with each place setting. Elegant, sweet and perfectly, delightfully useless for any other thing, I have always found these collectibles to be charming and comforting, and infinitely preferable to a salt shaker of any degree of quality.
So, imagine my delight as, over the years, people have started moving back toward sea salt and wonderful fleur de sels and away from refined shaker salt. A bit of civility returns to the world!
Light kidding aside, I've known people who collect salt cellars and the tiny silver spoons that typically accompany them. I've seen these collectibles used as ring boxes and ash trays (sacrilege!), but nothing is more delightful than seeing them on a table in their proper capacity.
Keep an eye on your dealer's smalls cabinet. These collectibles are small, affordable purchases that, trust me, will pay dividends in daily enjoyment.
It's amazing how everyday items from yesteryear – such as salt cellars – can, over time, become such prized collectibles. But, for antique collectors, that's the world we live in.
Be on the lookout for these collectibles at the New York Art, Antique & Jewelry Show in New York City on November 20-24. The show is produced by the Palm Beach Show Group and attracts exhibitors and attendees from around the world. They will also be hosting the New York City Jewelry & Watch Show October 30-November 1.