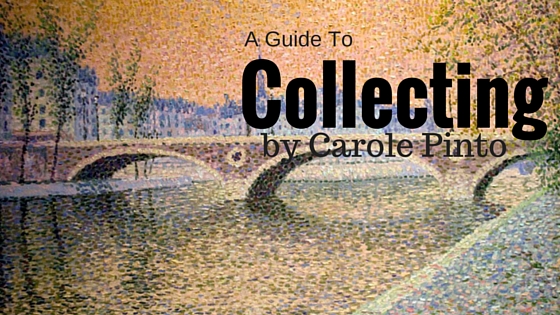 Choosing artwork in order to build a collection can be terrifying and intimidating, especially in today's highly priced markets.  Collectors should remember to rely first and foremost on their own sense of aesthetics and seek works of art that resonate instead of listening to talking heads trying to convince them otherwise.  It is better to trust what you see instead of what you hear, and collectors should not pursue works that they cannot understand or don t enjoy looking at.  The point of building a collection is surrounding oneself with artwork that keeps on giving over the course of a lifetime.
Artists who already have achieved name recognition in the marketplace are fully priced, and their artwork is most probably out of budget range for many collectors seeking to surround themselves with beauty.
However, there are many second and third tier artists who have produced museum quality artwork whose value is increasing over time, and that are worthy of a closer look.  These artists, many of whom have worked with the great masters, have been part of art history's important art movements, from Impressionism and Fauvism to Cubism and Constructivism.  For those of us with many years of experience and equipped with a highly discriminating eye, discovering the works of these 'lesser known master painters' is exhilarating and extremely rewarding, for their value can only increase over time.
I would be delighted to share with you the stories behind many of these artists, and invite you to visit my website at carolepintofinearts.com.
Carole Pinto