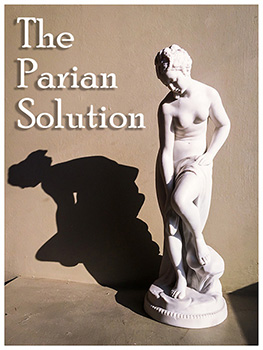 Many years ago, when I first started collecting, I was obsessed with statuary. Nothing said "refinement" and "antiquity" to me like collectibles featuring an elegantly swooning nude or a charging stag flanked by dogs.
I loved how supple or animated a sculptor could make stone or bronze appear. I wanted it everywhere. The problem was, at the time, I was a college student…and college students don't have much of a marble sculpture collectibles budget – even in Palm Beach! However, as I prowled antique shops and auctions, I discovered something I have come to love that allowed me to have my sculpture and still eat – Parian ware.
Parian is a type of white bisque porcelain that is left unglazed. Its name was loosely derived from Paros, a Greek island known for a very fine-textured white marble. It is this marble that Parian is meant to replicate. So, it was typically used to create forms that would appear in marble such as busts, statues and small vases.
Initially, multiple companies in the 1840's began producing some version of Parian ware, most notably Minton and Wedgewood. While considered a fad of sorts, it was used to produce some amazing works of art.
Molded as a liquid, it was easier and less expensive than stone or bronze sculpture and could, therefore, be mass produced. In 1845, the Art Union of London commissioned Copeland to make a series of figures after works by contemporary sculptors as part of an effort to bring art to the masses and improve general societal taste.
Other companies followed suit and what resulted was the predictable range in degrees of quality associated with mass production. And this continues today. Parian is still being made, and for every era that has come between there have been pieces that reflect the times. There was even a series of baseball players in the 1920's.
It's not too hard to find beautiful – and affordable – pieces created from finely carved molds from any period. As the pieces get larger (and some have multiple figures and can stand over a foot tall), there are, oftentimes, applied pieces. Foliage and such. So, it's hard to find collectibles that are truly intact, but that's the fun of the hunt.
I have kept several pieces over the years in my Palm Beach home and no matter where I put them, whatever style of room, these collectibles hold their own. Their starkness makes them almost seem modern, but the forms are just so classical.
The Parian Phenomenon is an indispensible book with lots of wonderful photographs of artists' proofs from many eras. It's worth finding. It's a great reference.