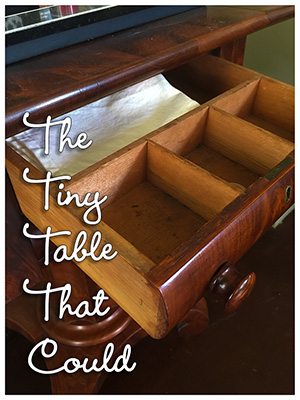 I love antiques; I really do. But if it doesn't work for me, I don't really want it. Therefore, I really appreciate antiques that are truly useful.
I have never had a more useful piece of furniture than a sewing table. It is also relevant to mention that I can neither sew nor have any intentions of learning. Still, my little Empire drop-leaf sewing stand (that's what it's really called) has been with me through seven homes, four dogs and five cities. It has never failed me and always made a place for itself.
Intended originally for (duh) sewing, sewing stands or tables almost always have one to two drawers and, sometimes, a silk or wooden basket underneath to hold fabric or needlepoint. As mine is a pedestal base, there is no basket. Also, nice examples tend to have drop leaves. And those are just the ones made of wood.
There are papier-mache sewing tables from Japan inlaid with mother of pearl and lacquered black. Pretty, but I still prefer a good sturdy wooden model from the 1850's veneered in firey mahogany, thank you very much. The drawers are compartmentalized and were meant for sorting buttons and thread and such, but I've had everything from loose change to golf balls in mine.
I bought this table in college and it has since served me as a night stand, sofa table, side table, pedestal, plant stand, telephone stand (remember those?) TV stand (horrifyingly and briefly), and its current incarnation as a bar. I encourage you to find yourself one.
The good thing is, they're not hard to find. Beautiful ones!
The problem is, they are little work horses and didn't always have the best life before you found them in the antiques shop.
Don't let a lost caster or missing drawer pull put you off. If the price is right, buy it. You can replace casters and pulls. If the finish is bad…well…I'm not a huge proponent of refinishing, but sometimes it just needs to happen. Look for cracks, obvious signs of bad repair, or loss of veneer. Cleaning a dark finish is one thing, but replacing veneer is another.
Above all, look for one that is sturdy and solidly built because this will be the most useful thing you've ever bought – and it will go great in your antiques collection.
You can thank me later.
Look for sewing tables and other antiques at upcoming Palm Beach Show Group shows. The next shows are in Los Angeles on January 27-31, Palm Beach on February 10-16, and Naples on February 19-23.