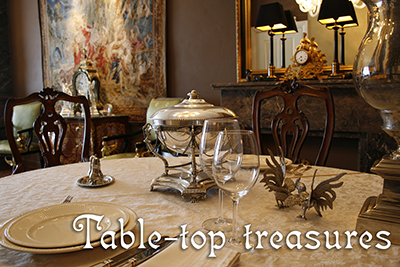 Few things are as universal and as bonding as the experience of dining with others. Therefore, I have always loved antiques that pertain to "the table." They elevate even the simplest fare to grand banquet status and help create a memorable experience for guest and host alike.
This goes far beyond the realm of pulling out your grandma's china.
Culinary accouterment is a vast and varied world that runs the gamut from linens to luncheon plates, and rounds out an antiques collection as nothing else can. Pretty is pretty, but when something is pretty and useful; that, to me, is the ultimate in art and antiques collecting.
Now, going back to your grandma's china, that's great. Plates and stemware are the perfect starting point for building a collection. However, don't discount serving items or even cooking implements.
Any chef will tell you that the older a piece of cast iron is, the better. The same goes for copper cookware. You can virtually taste the tradition and heritage of these older pieces and, let's face it, something doesn't become an antique unless it's pretty darn good to begin with.
The key, as with everything, is building your base knowledge before you set out to buy. And if there is a textbook for building one's base knowledge of culinary antiques, it is, without question, "The Epicurean Collector" by New Orleans dealer Patrick Dunne. Even if you never buy a single oyster plate, this is one of the most authoritative and beautifully executed books I have ever seen, and you should have it in your library. Published in 2002 in partnership with Southern Accents magazine and sumptuously shot by renowned food photographer Charles E. Walton IV, it is an utter masterwork that covers every conceivable aspect of foodie finery.
The book is currently out-of-print, but a quick google search will yield copies for sale all over the web. Get one; it will be an education in everything from cellarettes to salt cellars and finger bowls to flatware. Plus, the photography is an unquestionable feast for the eyes.
These types of antiques are sure to be on display at the Palm Beach Show Group's Jewelry-Antiques-Design Show in Palm Beach on December 3-7. They will also host two shows in Los Angeles in January, before returning to Palm Beach for the Jewelry, Art & Antique Show on February 10-16.